A light in the dark: drone mapping for light pollution
A city in Sweden was re-evaluating its lights - and drone mapping at night made it possible to see the bigger picture.
Cities are bustling by day and often bright by night. However, if street lights and buildings use old bulbs there can be more significant light pollution and less effective brightness. Modernizing lighting systems is beneficial for both the environment and urban safety.
Trollhättan, a city in Sweden, was trying to analyze how the center of the city's lighting worked. This city - the original home of Saab - was trying to get a picture of its luminance by creating an aerial film of the area overnight. But one company thought it would be better to use drone mapping.
Drone mapping at night
Drönartjänst Sverige AB is a Swedish company that started work in 2012. They have a team of 27 pilots across the country who film, photograph and digitalize sites across the company. Their work includes contracting, advertising, and inspections - ranging from measuring the volume of Biofuel to installing solar panel stations.
When Drönartjänst were contacted about a night drone mapping project, they thought it would be better to use drone mapping to create an orthomosaic rather than a film. This would create an output that was easy to navigate, rather than requiring people to slowly analyze a long film.
| | |
| --- | --- |
| Location | Trollhättan, Sweden |
| User | Drönartjänst |
| Software | PIX4Dmapper and PIX4Dcloud Advanced |
| Hardware | Mavic 3 |
| Area surveyed | 243 hectares 2 (23.25km2) |
| Images collected | 2485 images |
| Processing hardware | AMD Ryzen 7 3700X 8-Core Processor , 3.59 GHz, 32 GB RAM server |
Planning a night mission with drones
The aim was to use an aerial drone map captured at night to see light pollution to assess safety in the city as well as light pollution, especially in areas with waterways.
However, as it was an urban area, there are strict drone control laws. Drönartjänst had to get special permission from the flight planning center and air traffic control tower since it was a controlled zone where they needed to fly the drone.
Using a DJI Mavic 3 drone, the pilots captured images of the area before importing them to PIX4Dcloud to process. However, there was a problem: because the images were captured at night, it was hard to find overlap between photos as nothing could be seen.
Drönartjänst got in touch with the Pix4D Support team to optimize their processing to ensure that the night photogrammetry was possible.
Making a difference with night photogrammetry
With their results, Drönartjänst created an orthomosaic that clearly showed the impact of lighting across the city.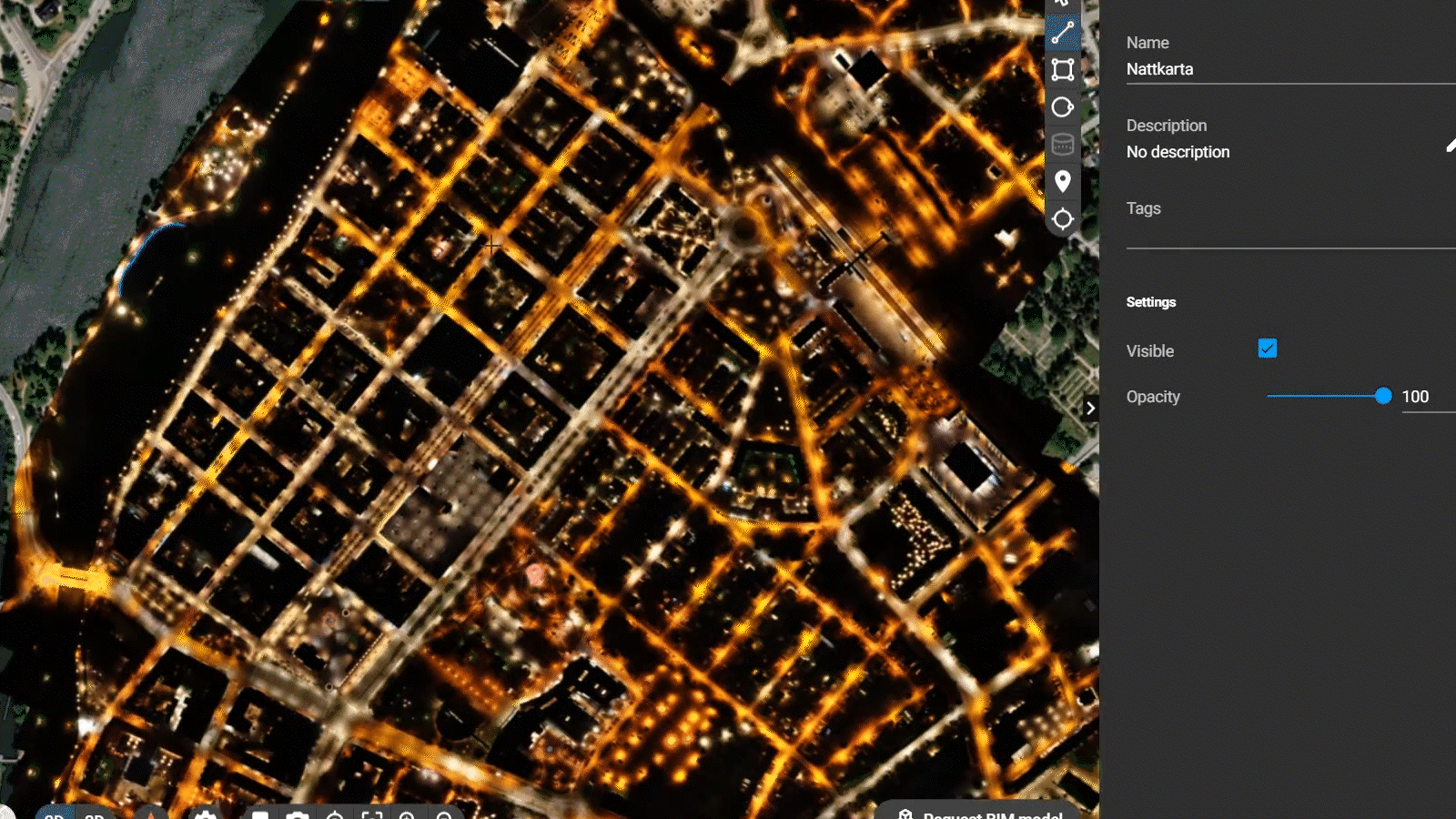 They even shared their results with one of the most experienced architecture agencies in Sweden, White Arkitekter, who had not seen technology used in this way before. One of the project managers at Trollhättan's civil engineering, Linnéa Larsson explained the benefits of the project for her team: "as the client, we are very satisfied with the results presented by Drönartjänst. For us, it creates a user-friendly output that can be used for multiple purposes."
Thomas Erdegaard, CEO of Dronartjanst said, "I am really impressed with how it was possible to put together a map with night images and must say that the tool of being able to share the results on the web with all the tools and possibilities for follow-up has been a game changer for us.
Rather than create a 4-hour film of the lighting, there was instead a shareable, unnoticeable map created.
The municipality received results that they could easily use to analyze lighting, as well as share with local residents to explain why changes could be made. The overview can also serve as an inventory for lights needing repairs or modernizing.
Thanks to this project Drönartjänst was able to showcase a better system for light analysis than old methods. Their map will be used for planning improvements in the city to ensure better safety and light pollution mitigation. They also expanded their network by demonstrating the use of the technology to renowned architects and city planners who now understand the value and benefits of drone mapping - even in the dark!
Discover drone mapping with PIX4Dcloud
See more with aerial surveys