PIX4Dsurvey 1.47: Wall detection and more profile tools!
In PIX4Dsurvey 1.47 you can now detect walls with a few clicks, work offline, and get a more comprehensive profile view.
PIX4Dsurvey is expanding its vectorization capabilities with more tools. The new release brings wall detection, a new type of license for offline operations and modified line draping to simplify the complexity of the polyline. Plus, PIX4Dsurvey now supports more geoids and is available in Portuguese. Scroll to read more about these and other developments!
Wall detection with a few clicks
In the previous release of PIX4Dsurvey, we introduced roof detection, an ideal tool for solar panel installation roof inspections, and various building or renovation projects. This new release brings a new guided tool for detecting structural elements from any point cloud: the wall detection. This new PIX4Dsurvey feature significantly reduces the post-processing manual vectorization of buildings.
Detecting walls is useful in several applications of architectural design, urban planning, and facility management. Detecting walls from any point cloud can help evaluate the condition of the walls, extract useful measurements, and then plan renovations and interventions accordingly. It is an accurate, simple, and time-saving solution that can also be used in interior projects as it can detect interior elements like floors and ceilings. This makes wall detection a very valuable tool for architectural and interior design, and building inspections.
The workflow is simple, quick, and efficient: right-click or press the enter key and the tool will create a polygon with clean boundaries for every selected wall element. The vectorization can then be refined manually to ensure that all of the relevant information is correctly vectorized. For each wall detected PIX4Dsurvey provides a variety of properties and measurements. These include the 3D perimeter, 3D area, height, minimum elevation and maximum elevation - all available in meters and feet.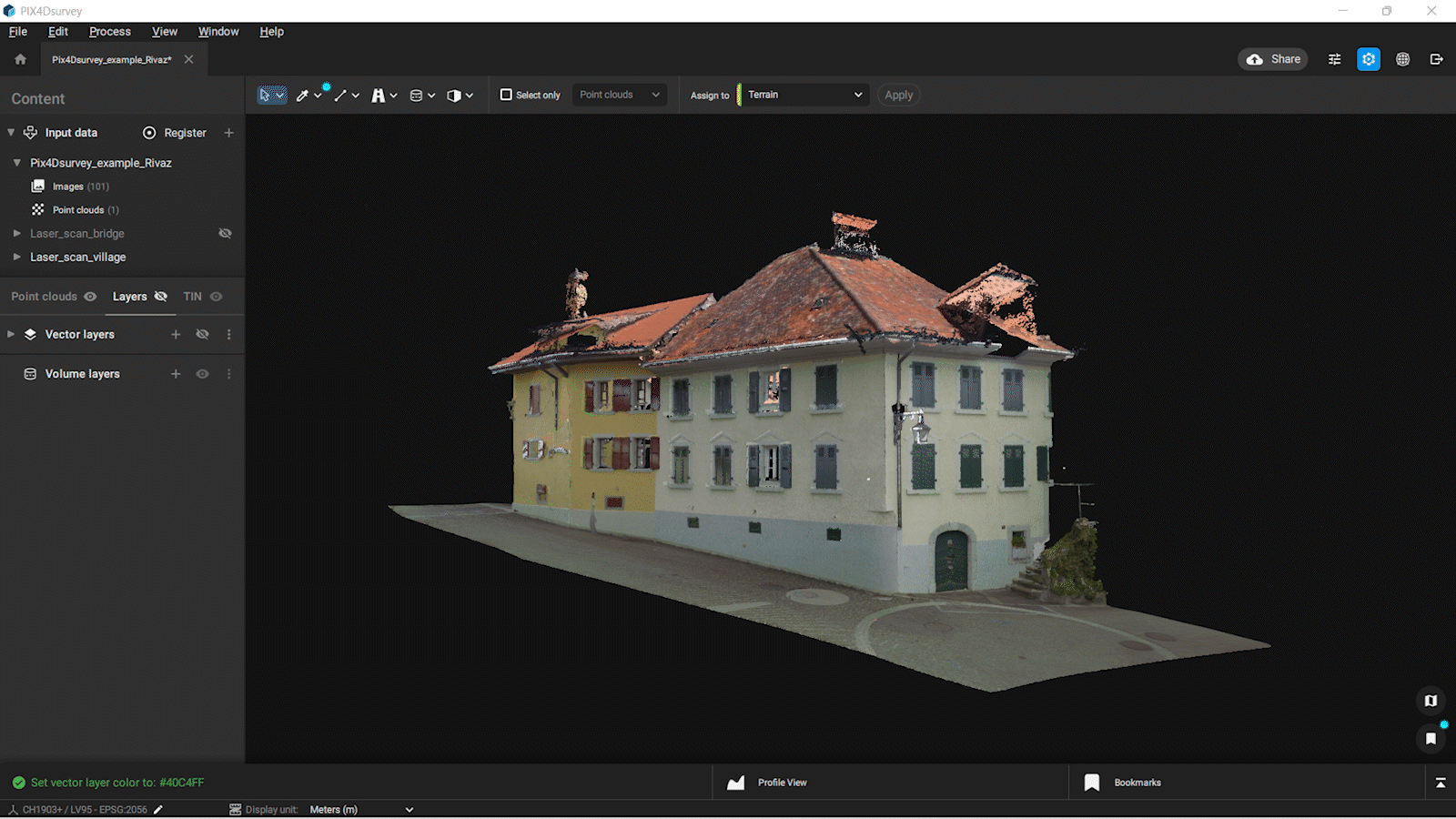 Fully offline licensing
PIX4Dsurvey has introduced a highly anticipated new development - the offline license. This new type of license does not require an internet connection to operate so it is ideal for professionals in public safety, critical infrastructure, and in other organizations with sensitive data who are required to avoid online operations. Of course, this could also be used in any environment where an internet connection can't be guaranteed, such as remote sites. The license is available for perpetual use, 3 year-subscriptions, and 5-year subscriptions. Read the support article or contact sales for more information.
Drape a line and modify its complexity
The profiles and sections workflow of PIX4Dsurvey (recently improved significantly) now has a new, very useful functionality for surveyors: line draping and simplification.
A very common part of fieldwork for surveyors is draping lines in order to analyze and measure distances and elevation changes across the surveyed area, most commonly roads. Draping a polyline to a point cloud is a quick and efficient way to extract features and measurements from the point cloud data while also verifying the accuracy of the dataset. Additionally, it facilitates a more comprehensive visualization of the road's geometry.
In PIX4Dsurvey, the user can now drape a line in the profile view and apply draping at every step of the profile box. And this is not all! For every drape line, the user can automatically simplify its complexity and only keep the amount of points that sufficiently describe the profile. This simplification is available to all polylines, regardless if they correspond to a profile.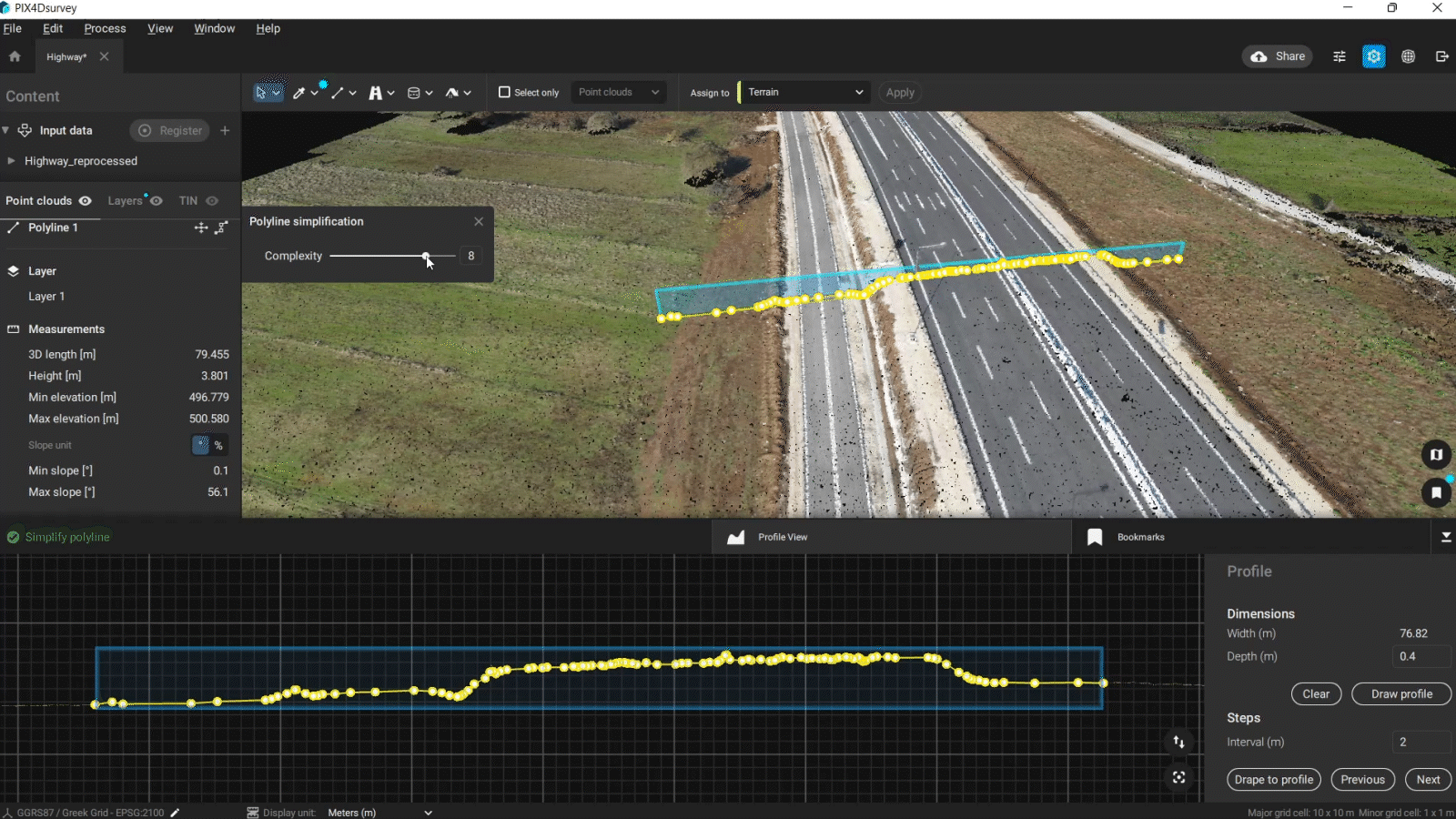 More improvements and additions!
PIX4Dsurvey now supports Single Sign-on login for subscribed companies, giving organizations the capability to control the sign-on by routing the signing to their company's standard SSO provider. In addition, the list of supported geoids have two new entries: the very much requested GCG2016 geoid model of Germany and the SLO_VRP2016/Koper. Finally, we have added Portuguese to PIX4Dsurvey so users who are more comfortable in Portuguese, can work in their native language. The software is already available in English, French, Japanese, Spanish, Simplified Chinese,Traditional Chinese, Korean and German.
PIX4Dsurvey is getting richer in features and functionalities, enabling you to improve your vectorization workflows. To learn more, download the new version! You can visit our support site to learn how to use the software, or sign up for our online and onsite workshops and discover how to make the most out of PIX4Dsurvey. Finally, check out our blog and get inspired by the way people from around the world use PIX4Dsurvey!
Discover how PIX4Dsurvey can help with profiles and sections creation
Bridge the gap between photogrammetry and CAD/GIS